As your family grows, you may begin looking for ways to make your house grow as well. A modular home addition for your Washington DC area home can achieve just that. And, compared to stick built additions, offers a variety of great benefits for you and your home. Modular home additions are made off-site, brought to your existing home and made a permanent part of the house. Our building professionals are experts in their field and will provide quality, dependable construction you can depend on. As the experts on modular home additions, we would like to tell you more about them and why we think they've been growing in popularity throughout the entire Washington DC area.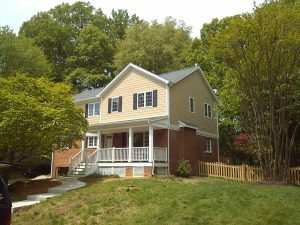 There are many ranch homes in the area and these are fantastic candidates for second story home additions, master suite additions and much more. And, much cheaper than standard construction, modular home additions offer a quicker process and a far less painful on-site experience. That's why modular home additions are becoming a highly sought after commodity in Arlington, Fairfax, Montgomery County and all points in between.
But you won't be able to tell just by looking at them! When we install your home addition, it will look completely seamless. Our modular home additions can be made to easily blend in to any architectural style, a seamless or no evidence approach in regards to there being an addition added on to a home. The goal is to make it look as though any modular home additions have been part of the house all along.
Another reason modular home additions have increased in popularity homeowners generally do not have to move out of their house at all during the on-site portion of the modular home addition installation. In contrast, people often have to move out for half of a year or more for a stick built home addition job.
Modular homes also have greater efficiency than stick-built homes; a major concern for local homeowners. Climate controlled factory conditions optimize thermal insulation & barrier installation, resulting in a tighter and better insulated home that requires less energy to heat & cool. And, thanks to high quality engineering and innovations at Carbide Construction, our modular homes are energy-efficient and easier on the environment too.
Are you interested in learning more about home additions in Washington DC, Arlington, Fairfax and Montgomery County? We can easily help you design your own unique and one-of-a-kind addition! Call Carbide Construction at 703-550-8711 or you can Contact Us.