A second story addition to your Vienna area home can solve a lot of problems. Second story additions can add needed square footage to your home, allowing growing families to avoid moving into a different, bigger home. And it doesn't impinge on your yard space! However, to many, a second story addition can seem like a huge undertaking, forcing homeowners to temporarily relocate during the process. With a modular second story addition this is not the case. Modular additions are built much faster than traditional additions and are built offsite in a warehouse. Your family can stay in your home for the duration of the project! This is not just convenient, you will save a bundle of money on hotel stays you may have needed if you chose a stick built addition.
Benefits
A modular second level addition is completely customizable and can be made to match the rest of your home. We build modular homes and modular additions for homes of all shapes and sizes. Take a look at our before-and-after gallery to see some examples of the different kinds of additions we've worked on.
Modular is also the green choice in second story additions. Few building materials are wasted, and because the additions are factory-made, they are more tightly constructed to withstand being transported to your home; meaning more energy savings.
Stick built construction methods usually have limitations that make it difficult to have a unique design on a second story. We provide a wide variety of customization options for you. So, we can modify all our existing designs to suit your desires.
Getting Started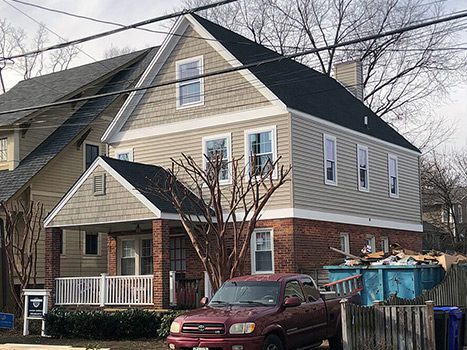 When you approach us for a second story modular addition, we conduct a comprehensive evaluation of your needs. We find out all the reasons you want an additional story, as well as all the possible solutions we can offer based on the size of the lot and the building. Then, we work with you to create an exceptional design that's custom-built to meet your needs and your budget.
Requirements for Second Story Modular Additions
There are two conditions that must be met before you can build a second story modular addition. First, the exterior dimensions of the existing home must be compatible with a modular design.
Second, the existing home and foundation must be structurally capable of carrying the additional weight, which is substantial.
Are you interested in learning more about a second story addition for your Vienna area home? Call Carbide Construction today at 703-550-8711 or you can Contact Us.